How to Add Google Translate in WordPress (Best Methods)
Google Translate is a language tool online. In this world, there are 195 countries and more than 6000 to 7000 different languages. Which people use to communicate with each other. Even though English is the international language for that reason, most people wish to learn that. But huge people are different reasons who want to read an online blog or search for anything with their own languages. In this post, I will show you how to add Google Translate In WordPress as a WordPress blogger.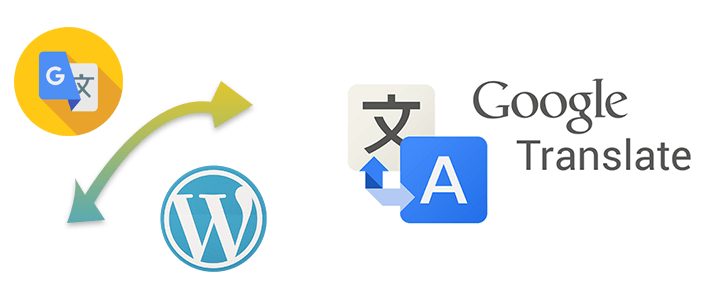 What is Google Translate
Google Translate is a Google Language Translator and Free Google Product of Google. The translator team makes it easy and spontaneous for the users. Now it is the most useable tool in the world for learning and listening to language online. It called the number one online language tool. It released different kinds of versions for different devices.
You can use it on a PC, It available on Android Phones and iPhones also as the name of the Google Translate App. You can download the app from the Google Play Store and Apple Store also.
Why You Should Add Google Translate In WordPress
Online marketers and bloggers always try to use a simple and user-friendly CMS to make their website. WordPress is a viral name for its popularity to Marketer. Most of the blogs online build with WordPress CMS and people search them online for different reasons. 85% of web blogs build with the English language but some of them are different from their own languages like French, China, or Russian blogs.
As a WordPress user often I notice that some visitors are coming from different IPs and regions and they try to read my blog on their own. While they couldn't understand my blog's language fluently. Then I decide what can I do something new for them and increase my visitors. Then I add the Translate Plugins to My WordPress site and I will get the result fast!
There are many other reasons for using the translation tool on your site. I will try to cover them at the next level.
Benefits of Translate in WordPress:
Now I'm going to share with you some extra benefits of Google Translate in WordPress below:
It may increase your returning visitors from different regions(Proven).
You, visitors, can translate your website from English to other languages with one click.
The conversion ratio is going to up.
If you are an affiliate marketing it can increase your sell ratio.
Search engine boot can scan your site with fixed language for ranking factors like Baidu!
These are the most common initial benefits of Translate Plugins in your site.
How To Install Translate Plugins In WordPress
For Installing Google Language Translator in your WordPress site. First, you need to do Install and Active Google Language Translate to Translate WordPress.
Installing Process: Plugins » Add New » Search: "Google Language Translator" » Install » Active.
If you have any doubts about which plugins you need to install then follow the link upper or click on the video below.
Video Tutorial: 
Setup Google Translate in WordPress
After installing and activated the plugins now the time to add Google Translate In WordPress. So, let's see the process below:
To configure the plugins go to Setting » Google Langauge Translator.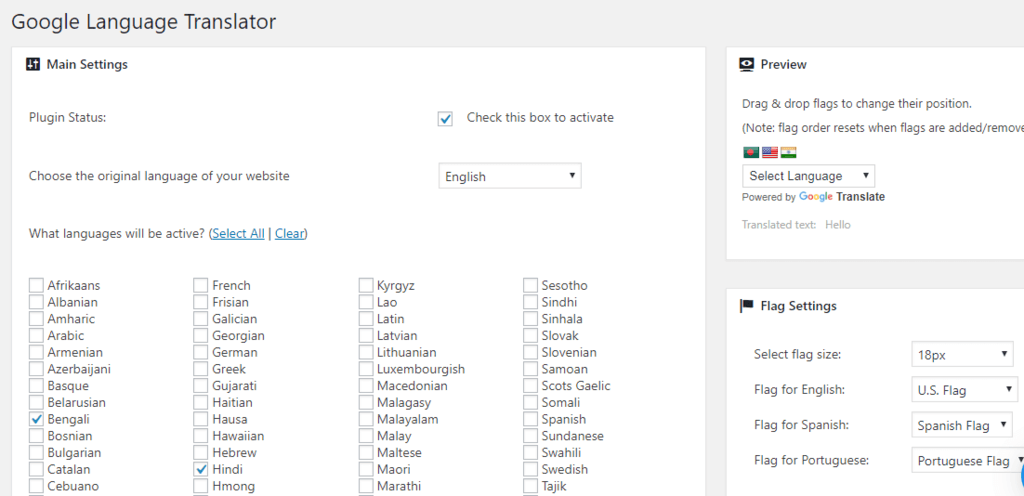 Here you now make sure that Plugin Status is checked. After doing this setup you need to fix your website default language from the "original language of your website" section. I select it in English cause my website's default language is English.
In the next section, you will see all kinds of language is available to show your navigation bar which translates supported. You can check which you want to show on your website sidebar and uncheck others as usual.

The next part is a really needy and cool feature of Google Translate Plugins. If you create a subdomain or subdirectory for your website as the English Language or others it will help you in the search ranking factor. Even you can set up here URL Translator and Add hreflang meta tags for WordPress. But it is only available in the premium subscription.
The other setting is really easy and user-friendly which you can navigate manually without any advanced knowledge. You can set it as a floating tool on your website also.
Now the part is set up in your website navigation. For that you need to go Appearance, Then Widget option. Drage the "Google Language Translator" and drop it in your website sidebar where you want to show the language bar. Then click on save the change.
Hopefully, this article helps you to add Google Translate to your WordPress site. If you have any quarry or suggestions about this post let us know via the comment section.