How To Choose A Best Domain Name (10+ Methods)
When it comes to choosing a domain name for your blog. The first thing you need to know is how you start a blog. The second step is a Good Domain Name. In appearing I will clear about you how to choose the Best Domain Name Perfectly.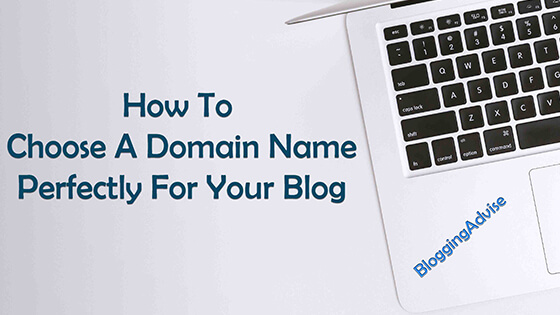 it's not an easy job even you've got more choices than ever. When you fixed your desire name, discovering that all the cool names are taken or registered by someone else.
Your blog's URL play a big role when it comes to search ranking factor. Most of the time people go with the random name and make some big mistakes.
You'll have to live with for a long time with the domain name of your website. That's why you need to know how to get a domain name. Take time and follow some rules to select a perfect domain name. I am going to share 10 proven tips for choosing your domain name. These rules are mostly helpful for selecting your desired domain name with quietly.
Steps To Choose The Best Domain Name
1. Make It Easy To Type And Pronounce
You always try to find a domain mane that's easy to type and pronounceable.
Look at these domains:
Problogger.com
Backlinko.com
Lifehacker.com
From the upper, all these are the most popular sites. And you look at these sites they are very easy to type also pronounce. Don't make it complicated and avoid unnecessary words. Make it easy to keep in mind.
2. Keep It Short & Light
Don't make your domain name complex and so long to your visitors. It will be the risk for your customers. They can be mistyping or misspelling. Although finding short domain name is not so easy but keep it short for the better result. You know a short domain name is easy to remember. For example:
I highly recommended you to keep your domain mane within (10-14) words. Make it hassle-free and need to be simple.
For example, BloggingAdvise.com is so simple and rememberable even though it is not very short.
3. Start With Keywords(Related Niche)
Trying to using keywords with your targeted related niche. Make an icon domain name which describes your business or services to your new visitors.
Before taken a domain name don't be hurried…! Take time and thinking about your business, location, targeted visitors, products or topic. I give you some idea, it can help you how to chose a domain name with your keyword & niche.
Now you have an idea about an e-commerce site. You want to start your business with on it and your product is seafood. You should start to include your keyword first in your domain. Example,
Seafoodmarket.com
SeaFoodStore.com
Include the keywords that people enter for search in the search engine.
4. Target Your Area
For your business first, you need to mind you targeting area. If your business is local, considering including your state or city in your domain name. It makes easy for finding your site to local customers. This is one of the main factors for choosing a domain name perfectly.
MobileRepair.Com.(extinction)
5. Make It Unique
If you are going for how to choose a domain name perfectly then it's the topic for you. Your domain is a part of your business even part of your brand. Not too unique bout be unique from others brand. You need to focus on extremely important on your domain name. Be careful about clone other site or change the spelling to similar to others established sites.
Remember the most popular image site Flickr.
When the site owner founded this site their domain they didn't use the standard spelling "Flicker.com". As a result, they have may have lost traffic from their site. After they decided that they buy the correct domain also with right spelling and redirect. And the end of the time they do this and make additional domain redirect to "Flicker.com"  to "Flickr.com".
6. Go With The .com Extension
.com is the most popular and common domain extension.
The best blogging platform and website are developed with the .com(domain Extension). The people who visit your site they remember the name of your blog, not domain extension. If your domain ends with .net, .org or others extensions. It might a little deceptive.
SO, go with the .com extension.
If your domain is not available with .com then go forward with others popular extension, .co, .net, .org, etc.
Don't go with the spammy domain extension as like .info or .biz. There are lots of spammy domain on online with these extensions.
7. Avoid Hyphens, Numbers, & Stop Words
When you come to know how to choose a domain name. You find out that the search engine doesn't like hyphens, number or stop words in the domain. Also, SEO plugins(SEO Yoast) are suggested for avoiding there.
Number and hyphens are often misunderstood. Let's say your domain is Health-tips.com. You have to say "health hyphen tips dot com"..! It's disgusting.
Maximum time people forget number and article. The same thing happens when you select a domain with numbers, stop words, or article.
If you make good result easily and gain success. Make sure this topic in your domain. Although some site is most popular with these extensions is exceptional. They took a long time for today. Example,
Digital-photography-school.com
Labnol.org
9lessons.info
thewirecutter.com
8. Avoid Copyright & Trademark
Make sure your domain name. You've selected the name isn't trademarked or copyrighted. Trademarked or copyrighted can damage your site or blog. Thereafter you may be losing your domain name.
So be careful to choose the domain mane. Before select, the domain name makes sure that is fresh and don't go to confrontment with others names.
For example, you cannot use terms like Google, WordPress, Facebook, Twitter, etc on your domain name..!
9. Singular & Plural
This is one of the deep matters when you want to know how to choose a domain name tricksy.
Look at these domains appear:
BestSellers.com & BestSeller.com
Here BestSellers.com is the root domain. But someone might visit BestSeller.com instead of BestSellers.com. This portion I'd recommend you to buy both of them. This decision turns your visitors on your blog. One you can make root domain and another is the primary domain. Then redirected the primary domain to the root domain.
10. Brand Your Name As A Best Domain Name
If you wish, you can take your domain with your own name if it will available on the web. And make it brand.
Some blogger is more popular and successful with their own name's domain. They select their domain as their name and make it brand.
NeilPatel.com
HuffingtonPost.com
SethGodin.com
MissMalini.com
You can use your short name with the domain name as like LrbTravelTeam.com. You can also a part of your name with the domain name or as a domain name like GoinsWriter.com. Even you can make a website with your name for your personal or portfolio website. It's a better idea I think nowadays.
11. Check Your Domain Name History
This is the last methods of this post but most important. Before choosing your domain need to aware of its historical records. If someone takes your domain before and make it spam with online then threw it out or parking. Then you should avoid it carefully.
If you choose the domain which has bad records on online then you will never get the change in the search engine ranking. So, be careful about this matter when you take your brand name.
I suggest you some tools to check your domain's history below.
Web.Archive.Org
Research.Domaintools.Com
Who.Is
Hosterstats.Com
Best Domain Name Generators Site
Sometimes you've tried to generate your domain name. Also, you need an idea related to your keyword by selecting a domain name. For the reasons in this section, I will introduce you to the most popular domain name generators site.
The tools you can try to find an idea of how to choose a domain name.
Name Mesh: Name Mesh is the most popular domain name generator tool. It provides you with all other extensions in a short time. You can use it for and a clear idea and follow this post for how to choose a domain name.
Name Station: This is another domain name generators site is very popular for searching business name with keywords.
Lean Domain Search: Recommend for trying it at a glance.
Shopify: It is the most visited site for domain name generator and gets a unique idea.
Best Domain Name

Registers
When you have found your desire. Don't be late, it's time to register the domain name.
Have so many registers in online. But need to a trustable and reputational site. Godaddy, HostGator, and Namecheap are the most popular and trusted sites. Recommended Namecheap highly cause I am its user and fully satisfied.
Best Hosting For Host Your Domain Name
Do you want to host your domain name on the same platform? I don't recommend it. It's better to host your site in a new place.
If you go with WordPress CMS for start blogging WPX Hosting is not comparable. Here has some reason, WPX is the only popular hosting site which starts their journey for WordPress Hosting Definitely. This is also recommended by best WordPress selling "Thrive Theme". You can host your site now in WPX Hosting.
or, I recommend using SiteGround. It's WordPress Optimized web host platform.
If you can go with the low budget, you may use HostGator (70% Discount Link).
A2 hosting is one of the best for its superfast progress. It's a most popular for now(blogger's use it blindly).
If you still now tired to find your domain name. You can change the domain name better even it is not fair. But you can. Just started with the name which you like most. Following the rules of how to choose a domain name, you can able to find your targeted domain name later. So start your business with your selected name from now,  one thing remembers.
if you can dream it, you just do it now…..!!